Family Friendliness
My Personal Review
"I'm the best."
There are no problems with this movie. It is a Christian movie with great lessons about family and our call to follow God. The only language we hear is one "o my g-sh". I highly recommend this movie for any family.
Warning! This review is in-depth and contains many spoilers.
Introduction
Ben Walker (Kevin Sorbo) had it all, but it always wasn't that way. Ben Walker started off wanting to be a preacher. He and his girlfriend, Wendy (Kristy Swanson), wanted to serve the Lord in the ministry, so Ben went away to the city to learn, but he never came back to Wendy. Instead, he went on in life and now is living a very successful life. He thinks his life is perfect, and doesn't even think about what could have been.
He lives like this for 15 years, until he is greeted by an angel (John Ratzenberger) that tells him that God wants to give him a second chance for what could have been. After being knocked out, Ben is shocked about what he finds when he wakes up.
Where am I?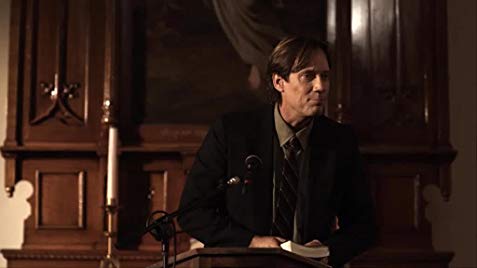 When Ben wakes up, he is in an old house getting ready for church. In this alternate timeline, he actually married Wendy and had two girls. Ben is confused, and doesn't have a clue what he is going to do. He decides is going to go along with it till he can find the angel. He goes to church with his family only to learn that he is the pastor there and has to come up with a sermon quickly. The first thing that comes to his mind is money, so he gives a 1 minute sermon about how to make more money so that you can be happy.
Total Surrender
Ben Walker is in a pickle. Here he is trying to live a entire different person's life. He wishes he was back in his own life. As he leaves the church however, he sees the angel and rushes after him. The angel tells him that he cannot leave yet, so he goes back home. Some time later he comes up with the idea of driving back in the city to see if that will change anything, but when he gets there, no one knows him. Finally, he listens to the angel who tells him that if he surrenders to this life and goes with it for now, God will give him a choice, this life, or his old life. Ben accepts, wanting his old life back.
Ben begins to do things differently as he lives his different life. He actually studies the Bible given to him so that he can give a better sermon, which he does. He also develops better relationships with his family. After the last week, they really hated him, but he changed. He bought his youngest daughter a fish tank for her pet and let her daughter go on a date with a guy he first had paid to stay away from her. Everything was perfect. He and Wendy went out one night, but as they were, Ben was called to the hospital to help save a dying man from eternity in hell. Ben quickly goes to him. He explains to the man the Gospel, and the man gets saved. During this, Ben realizes he was living the whole wrong life and that he should have lived his life for God.
After being with the dying man, he goes back to the angel, and explains that he understands where he was wrong. The angel, however, tells him some bad news. He tells him that he has to go back to his old life. Ben doesn't want to, but the angel brings him back and he wakes up in a hospital bed.
What to Do?
Ben Walker really wanted that life. When he wakes up he finds his new girlfriend, but he ditches her to go to the church that he preached at. Turns out, Wendy had been there, but was leaving for Chicago. She was at the bus station. Ben quickly got over there and explained he was wrong to Wendy. Wendy refuses to go back and gets on the bus. Ben is crushed, until he hears the bus stop, and Wendy decides that she will go back to that life.
The End
Both Ben and Wendy's lives are changed forever. Ben goes to seminary and begins to learn. They also begin to have kids, and everything that Ben had lived through came true…
Thanks to youtube.com for the trailer
©Apple Tree Movies