Every Hit Man Deserves a Second Shot!
Overview
A fugitive couple goes on a glamorous and sometimes deadly adventure where nothing and no one – even themselves – are what they seem. Amid shifting alliances and unexpected betrayals, they race across the globe, with their survival ultimately hinging on the battle of truth vs. trust.
Actors
Starring:
Tom Cruise
,
Cameron Diaz
,
Peter Sarsgaard
,
Viola Davis
,
Jordi Mollà
,
Paul Dano
,
Maggie Grace
,
Marc Blucas
,
Celia Weston
,
Falk Hentschel
,
Lennie Loftin
,
Rich Manley
,
Dale Dye
,
Gal Gadot
,
Jack O'Connell
,
Trevor Loomis
,
Nilaja Sun
,
Taylor Treadwell
,
Christian Finnegan
,
Nicholas Art
,
Brian Dykstra
,
Brian Tarantina
,
Natasha Paczkowski
,
Jerrell Lee Wesley
,
Matthew Lawler
,
Ronn Surels
,
Eric Robert Bradshaw Bennett
,
Scott Wahle
,
Sara Jean Underwood
,
Helen L. Welsh
,
King Orba
,
Michael Enright
,
Adam Gregor
,
Mitch E. Bowan
,
Gerald T. Carbajal
,
Arnold Chon
Spoilers ahead!
Introduction
Roy Miller is a rogue spy that is in possession of the Zephyr, a high-powered battery that can power a small city and is only the size of a regular battery. However, there are a lot of people who want the battery for themselves and want to kill the person who invented it, Simon Feck.
However, while en route to visit Simon, Roy meets June and accidently ends up on the same plane that Roy crashes. June is now stuck in the middle of this situation and doesn't know who to believe. Meanwhile, Roy must protect her, the Zephyr, and Simon from being captured or killed.
Ripe Apples
Roy realizes that he has to protect the people involved with him no matter the cost. June constantly betrays his trust, but he gives his all to protect her innocence. He even is seen putting himself in harm's way for others. While some of the things Roy does are wrong, a majority of what he does makes him a good guy.
June is seen constantly trying to figure out exactly what is going on, but by the end of the film she realizes she needs to help Roy protect the Zephyr.
Rotten Apples
There is some violent content in this film. We see a few people shot and stabbed. There is some blood seen on screen. A place is crashed in one scene. We also see a few epic car chases and explosions.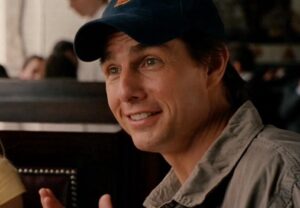 We see Roy shirtless in a few scenes. We also see June in a bikini. The two characters joke about changing each other's clothes while unconscious, without looking. June mentions that she wants to have sex with Roy while being injected with truth serum. June and Roy share a kiss
We see a few people drink in this film. June and Roy are drugged in a few scenes. June is injected with a truth serum.
There is a lot of language in this film. There is one f bomb. The s and a word are heard a times each. The Lord's name is misused a few times. The b word is heard as well once.
My Thoughts
Tom Cruise does an amazing job playing Roy Miller. Roy is always mysterious, but also a fun character that by the end of the film, you really enjoy watching what Roy does next. Tom Cruise does a great job playing this character as he is seen crashing a plane and being outside a vehicle during car chase.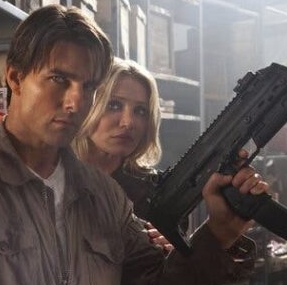 Throughout the film, June is constantly seen doing exactly what she isn't supposed to do. And I know that the whole point is that she doesn't know who to trust, but it does feel excessive where she doesn't listen to Roy, even after he saves her life multiple times. The film feels a little repetitive, as Roy saves June, June betrays Roy, and Roy saves June.
Conclusion
Overall, this film is exciting and dangerous. Tom Cruise portrays an exciting and mysterious character without being in a Mission Impossible film. Overall, I think this film deserves a 6/10. The only reason is it gets a little lower of a rating is because Tom Cruise is really the best thing about this film. The story is somewhat repetitive and not really deep. Nevertheless, it is a fun film to watch if you prefer something with action and comedy.
(Visited 35 times, 1 visits today)